Coral Gables Pool Repair Service
Don't Let The Health Of Your Pool Drown
Looking for a trusted Coral Gables pool repair service? Look no further than Florida Pool Heating! Our team of highly trained pool technicians has years of experience in providing top-notch repair services to pool owners across South Florida. Whether you're dealing with a leaky pool, a malfunctioning pump, or any other pool-related issue, we're here to help.
Florida Pool Heating understands just how important your pool is to your overall quality of life. That's why we're committed to delivering fast, effective repairs that get your pool back up and running in no time. We'll work closely with you to diagnose the issue and come up with a customized repair plan that meets your unique needs and budget.
But we're not just here to fix problems – we're also dedicated to helping you keep your pool in tip-top shape all year long. Our comprehensive maintenance plans include weekly chemical balancing, skimming, filter cleaning, and equipment inspections. With our help, you can enjoy your pool with confidence, knowing that it's always in the best possible condition.
Why choose Florida Pool Heating for your Coral Gables pool repair needs? We're a family-owned and operated company that truly cares about our customers. We're committed to providing exceptional quality service every time, and we'll go above and beyond to ensure your complete satisfaction. Plus, with our years of experience and extensive knowledge of all things pool-related, you can trust that you're in good hands with us.
Ready to schedule your Coral Gables pool repair service? Contact us today to learn more about our services and to request a quote. We look forward to helping you get your pool back in working order!
We Repair All Coral Gables Pools!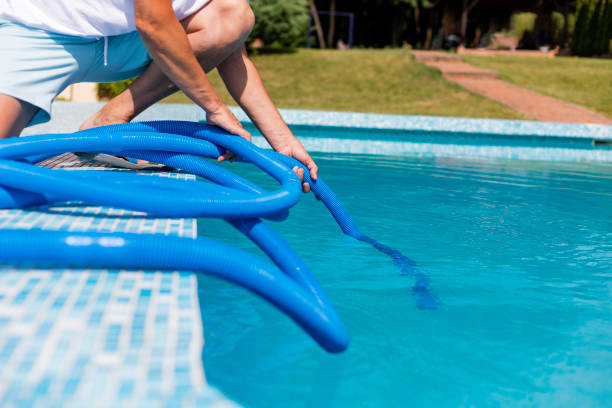 When it comes to Coral Gables pool repair service, Florida Pool Heating is the name you can trust. We understand the unique needs of every pool and offer customized maintenance plans to cater to your specific requirements. Our highly skilled technicians will perform a comprehensive evaluation of your pool and its equipment to ensure efficient care.
We take pride in offering tailored service plans that encompass all areas of pool maintenance, including pumps, heaters, filters, and drains. Our dedicated experts will work with you to create a customized plan that will keep your pool in optimal condition for you and your loved ones to enjoy. You can rest assured that your pool will receive the best possible care.
Aside from personalized service plans, we also offer a wide range of other services such as pool maintenance, repairs, and installations. Our team is always ready to help, whether your pool requires minor adjustments or major renovations. With our knowledge and commitment to delivering superior care, you can trust us to keep your pool functioning at its best. Contact us today for Coral Gables pool repair service that you can rely on upon!
Schedule Pool Maintenance With Us!
Are you a pool owner in Coral Gables? It can be a hassle to keep your pool in excellent condition all year long. At Florida Pool Heating, we understand the importance of maintaining a beautiful and long-lasting pool, which is why we offer customized maintenance packages that cater to your unique needs.
Our pool maintenance options range from weekly, monthly, and seasonal services, ensuring that your pool stays in top condition. Our weekly maintenance includes skimming, debris removal, and balancing chemical levels to prevent algae growth.
For monthly maintenance, we go the extra mile to ensure your pool's overall health. We clean the filters, vacuum the bottom, and inspect all equipment to detect potential issues before they become bigger problems.
Our seasonal maintenance package takes into account weather changes and includes pool opening and closing, winterizing equipment, and checking for leaks or damages. We always determine the best maintenance plan for your pool, taking into account your schedule and budget.
Choose Florida Pool Heating for all your Coral Gables pool maintenance needs. Let us take care of everything while you sit back, relax, and enjoy your stunning pool all year round. Trust us to keep your pool in excellent condition.
What Types of Pools Do We Repair?
Coral Gables residents know that their pool is an important investment, which is why they trust Florida Pool Heating for all of their pool repair needs. Our team of experienced technicians is expert at repairing all types of swimming pools, including saltwater and freshwater systems. No matter what the issue is, we have the skills necessary to get your pool up and running again in no time.
We offer a comprehensive range of pool repair services to meet the needs of every Coral Gables homeowner. Our team is well-equipped to handle all types of pool repairs, including pump repair, leak detection, liner installation, and more. We specialize in inground, above-ground, fiberglass, and vinyl pools, ensuring that your pool is in the best possible hands.
Florida Pool Heating recognizes that each pool is unique, which is why we offer customized repair solutions for each and every client. Our technicians are highly skilled and experienced, allowing them to handle any repair issue with ease. Whether you're dealing with a minor issue or a major repair, we're here to help.
Don't trust just anyone with your Coral Gables pool repair needs. Contact Florida Pool Heating today to schedule an appointment with one of our expert technicians. We guarantee that you'll be satisfied with the quality of our work and the level of service we provide.
Get Coral Gables Pool Repair and Maintenance Today!
Florida Pool Heating is the premier choice for pool repair and maintenance in Coral Gables, Florida. With a team of experienced and certified technicians, we can handle all aspects of pool repair, from leak detection and repair to pump and filter maintenance. We also offer a wide range of maintenance services to keep your pool in top condition. Contact us today to schedule your pool repair and start enjoying your backyard oasis once again.