SOLAR HEATERS
Heliocol is the most efficient solar pool heating system on the market, producing more heat per roof than any other system.
We are an Exclusive Heliocol Dealer for Dade, Broward and Palm Beach Florida Counties. Solar pool heating is by far the most cost-effective way to heat your pool. Solar pool heating systems can double your comfortable swim season in a warm pool. Depending on what temperature you find comfortable, a solar pool heater may even triple your season.
Solar pool heating is best for those pool owners seeking the most environmentally friendly heating solution. If you are interested in going "clean and green," solar is the way to go. Heliocol Solar can help to increase the pool temperature by 15 degrees, it uses "FREE" Energy from the sun to warm your pool and can be used for both in-ground and above-ground pools. Solar Powered Heating from Heliocol Heliocol has been a leader in the residential and commercial pool heating industry since its production of the world's most advanced pool heating panel in 1977. Along with the millions who have found new enjoyment from their pools, millions of dollars are saved each year by both residential and commercial Heliocol systems installed throughout the world.
So confident are we in our product that we offer a full 12-year parts and label panel warranty, the best in the industry. Don't settle for anything less than the very best.
Contact us today
We're here to help you! Contact our support line during business hours (8am-4pm ET)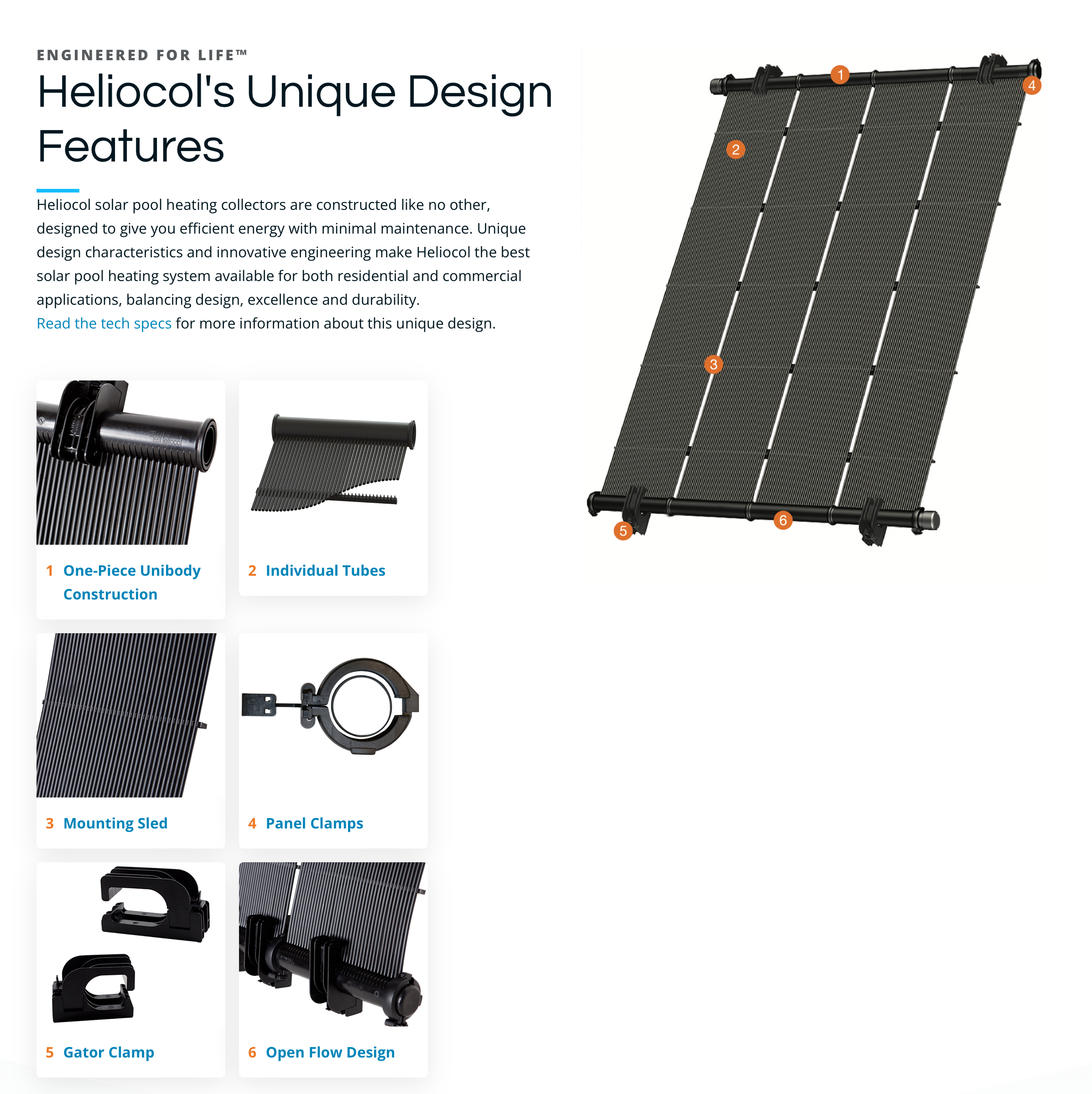 THE HELIOCOL DIFFERENCE – DARE TO COMPARE.
Other solar companies have tried using every shape, design and material imaginable to capture the power of the sun for pool heating, but none have come close to Heliocol's performance, durability, aesthetics and ease of installation.
For decades, the competition has tried to imitate our designs, warranty and applications but none have matched Heliocol's success. Backed by years of precision engineering, the best materials and exceptional attention to detail, we've maintained our position at the head of the pack since 1977.
WE'RE FLEXIBLE
Pitched shingle roofs, flat roofs, tile roofs…any roof with the appropriate sun exposure is suitable for a Heliocol installation. Because of Heliocol's patented gapless design, the system also allows for more square footage in a smaller area, exceeding other collector brands by as much as 15 percent.
FEATURES
Heliocol is the ONLY solar panel in the industry that does not require multiple 'hurricane straps' across the panel to hold the panel to the roof to meet the 2003 FLORIDA WIND LOADING CODE. All of Heliocol's mounting hardware is at the top and bottom of the solar panel ONLY and the mounting hardware is easily attachable to a roof.
BENEFITS
A Heliocol solar system requires on average, 50%-60% fewer penetrations in your roof to attach the solar system…and it still withstands the highest winds in the industry! Heliocol is the most requested solar panel by insurance carriers for replacement of solar panels affected by high winds. In addition, Heliocol offers a flush, more aesthetically pleasing appearance. There are no unsightly gaps between the solar panels!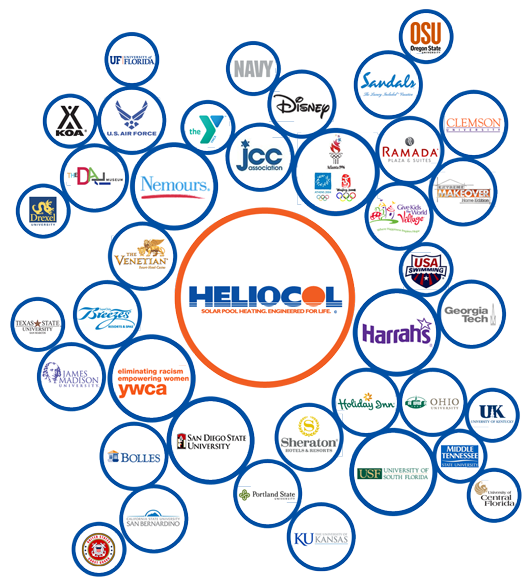 WE ATTRACT THE BEST
The most exclusive commercial clients in the industry choose Heliocol solar pool heating systems for for the rapid payback, top performance and warranty leadership.
With decades of experience designing and installing the world's largest and most complex commercial solar pool heating systems, Heliocol consistently exceeds expectations for large-scale projects.
Our flagship installations include pool heating systems for the Summer Olympic Games, exclusive resorts, military installations, major universities, hospitals, corporations and government officials.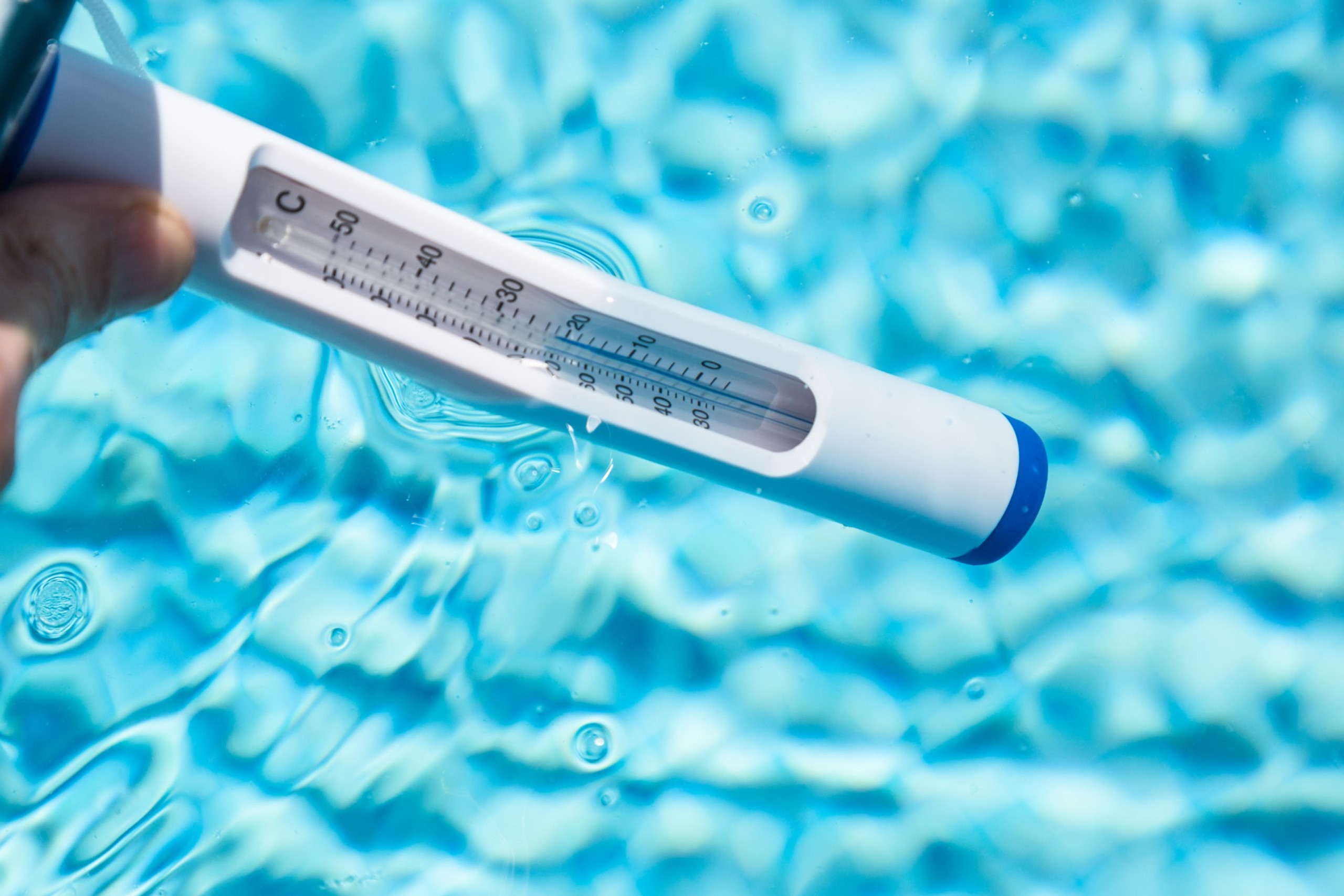 Overmolded Header
Heliocol's patented overmolded header ensures the strongest possible connection between tubing because the header is actually formed around each individual tube.
One-piece construction eliminates welds and allows the collector to expand and contract with temperature changes.
The overmolded design also gives each individual tube full-flow access to the header, virtually eliminating backpressure and saving wear and tear on your pool pump.
Gator Clamps
Heliocol's patented Gator clamp mounting system eliminates the need for straps, securing the panels with fewer roof penetrations.
The clamps also allow the headers to expand and contract with temperature variations, never cutting into the collector and never restricting water flow.
Gator clamps and Heliocol panels are engineered for maximum compatibility with each other and your roof.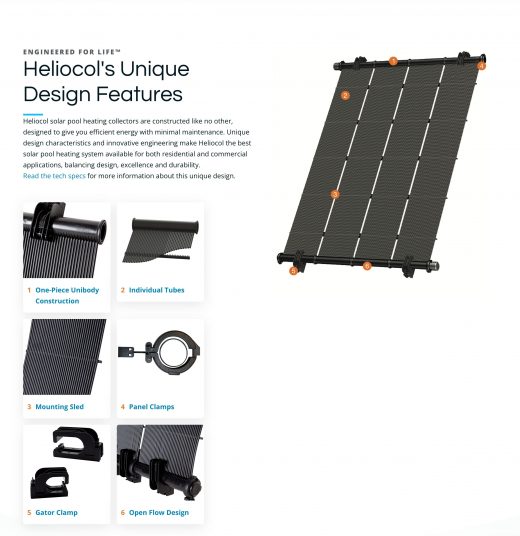 Individual Tubes
Heliocol's patented individual tube design resists lift, keeping the panels in place even in high winds.
The open design also protects the roof surface from rain rot, allowing rapid moisture evaporation.
Panel Clamps
Heliocol's patented panel clamps replace old-style rubber hoses and metal clamps that require regular rooftop maintenance and replacement.
These durable, specially-engineered clamps never require replacement, never need to be tightened and, unlike rubber hoses, will not degrade and stain your roof over time.
Panel clamps allow panels to be mounted closer together for a more attractive and more efficient system with no wasted space.
Pipe Connectors
Heliocol's CPVC pipe connectors provide more flexibility in installations. When a connection between panels is extended to accommodate obstructions on the roof, Heliocol's pipe connectors work in conjunction with the panel clamps to provide a seamless, reliable coupling.
Contact us today
We're here to help you! Contact our support line during business hours (8am-4pm ET)