Davie Pool Repair Service
Don't Fear, Your Pool's Hero is Here
At Florida Pool Heating, our team of expert technicians is dedicated to providing top-notch pool repair services to the residents of Davie. With extensive experience in serving this beautiful South Florida community, we have helped countless pool owners with their repair and maintenance needs. We understand the importance of having a fully functioning pool, especially during the hot summer months, and are committed to quickly restoring your pool to its optimal state.
Our technicians possess the skills to diagnose and fix a variety of pool issues, from identifying leaks to cleaning filters and repairing pool pumps. We take great pride in our expertise and craftsmanship. Additionally, we recognize that every pool is unique, and therefore, we collaborate closely with our clients to understand their specific needs and provide tailored solutions. This customized approach has allowed us to build strong relationships with our customers and establish ourselves as a leading pool repair company in South Florida.
In addition to repair services, we offer a variety of maintenance plans to keep your pool in top shape. Our plans include weekly chemical balancing, skimming, filter cleaning, and equipment inspections. We will work with you to develop a personalized plan that meets your specific needs and budget. Our goal is to make it as easy as possible for you to enjoy your pool all year round.
Don't let a malfunctioning pool ruin your summer plans – trust the professionals at Florida Pool Heating for the repair and maintenance services you need. We are a family-owned and operated business and are committed to providing the highest quality service to our customers.
We Repair All Davie Pools!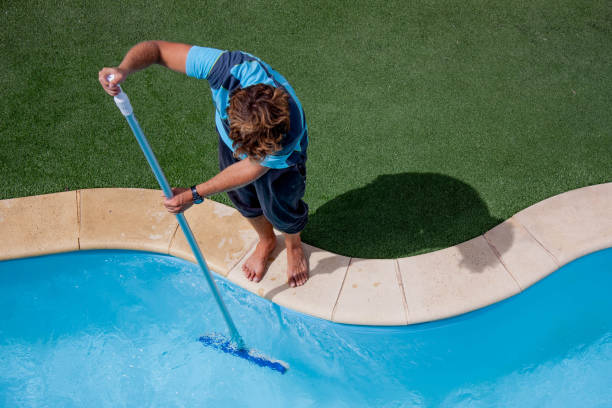 At our company, we recognize that every swimming pool is unique and requires its own personalized approach to upkeep and maintenance. That's why we offer bespoke service plans to cater to the specific requirements of your pool. Our proficient and accomplished technicians will carry out a comprehensive assessment of your pool and its equipment to guarantee optimal maintenance.
Our custom-made service plans encompass all aspects of pool care, including pumps, heaters, filters, and drains, tailored to the particular needs of your pool. Our dedicated team will collaborate closely with you to design a plan that maintains your pool in impeccable condition for you and your family to relish.
In addition to our tailored service plans, we also provide a wide array of other services such as pool maintenance, repairs, and installations. Whether your pool needs a routine check-up or a complete overhaul, our team is prepared to assist. With our proficiency and dedication to providing exceptional care, you can rely on us to keep your pool in top-notch condition.
Schedule Pool Maintenance With Us!
As a pool owner in Davie, it's crucial to keep your pool in top-notch condition. Florida Pool Heating understands that maintaining a pool can be a challenging task, which is why we provide customized maintenance packages to make it a breeze. Our plans are tailored to your specific needs and guarantee that your pool stays in impeccable condition.
Our maintenance options include regular, periodic, and seasonal maintenance.
Regular maintenance entails surface skimming, debris elimination, wall and tile brushing to prevent algae growth, and chemical level monitoring to maintain the correct balance.

Periodic maintenance encompasses the overall well-being of your pool, including vacuuming the pool floor, cleaning the filters, and conducting equipment inspections.

Seasonal maintenance addresses weather-related changes, such as opening and closing the pool, winterizing equipment, and identifying any leaks or damages.
We understand that every pool is unique, which is why we evaluate the best maintenance schedule for your specific pool. We offer a variety of maintenance plans to suit your schedule and budget, so you can relax knowing that your pool is in prime condition. Allow us to handle your pool maintenance needs and relish in a sparkling, immaculate pool all year round.
What Types of Pools Do We Repair?
At Florida Pool Heating, we take great pride in our versatile service offerings. We specialize in servicing all types of swimming pools, including both saltwater and freshwater pools. Our team of skilled technicians is equipped to handle any repair, big or small, to ensure that your pool is up and running in no time.
We have the expertise to repair all types of pools, including inground pools, above-ground pools, fiberglass pools, and vinyl pools. Whether you have a built-in pool that requires leak detection or pump repair, an above-ground pool that needs a new liner or pumps maintenance, a fiberglass pool that needs repair in Davie, or a vinyl pool that has tears or leaks, our team is here to help.
We understand that each pool is unique and requires different types of maintenance and repairs. That's why our team is equipped with the skills and experience to handle any repair, ensuring that your pool is back in top condition. With our expertise, we'll have your pool looking and functioning like new in no time.
Get Davie Pool Repair and Maintenance Today!
Florida Pool Heating is the premier choice for pool repair and maintenance in Davie, Florida. With a team of experienced and certified technicians, we can handle all aspects of pool repair, from leak detection and repair to pump and filter maintenance. We also offer a wide range of maintenance services to keep your pool in top condition. Contact us today to schedule your pool repair and start enjoying your backyard oasis once again.