Electric Pool Heaters Delray Beach
Efficient Pool Heating Solutions in Delray Beach
Looking to enhance your swimming experience and enjoy a delightful swim, no matter the weather? Look no further than Florida Pool Heating! As an established and trusted pool heater installation and repair company serving Delray Beach and the surrounding areas in South Florida, we are dedicated to delivering exceptional pool heating services. When it comes to electric pool heaters in Delray Beach, we've got you covered.
At Florida Pool Heating, we understand the importance of maintaining a comfortable pool temperature throughout the year. That's why our team of skilled professionals specializes in electric pool heater installations and repairs. By choosing our reliable and energy-efficient electric pool heaters, you can relish in the luxury of a consistently warm pool, tailored to your desired temperature.
We take pride in utilizing high-quality materials and top-of-the-line products to ensure the longevity of your electric pool heater. Our partnerships with leading manufacturers in the industry enable us to offer durable and reliable pool heating solutions. Whether you have a residential pool or a commercial one, we have the knowledge and expertise to handle installations and maintenance of all electric pool heater types.
Florida Pool Heating stands out among the competition due to our unwavering commitment to customer satisfaction. With years of industry experience, we have earned a reputation for delivering exceptional services to our valued clients. Our meticulous attention to detail ensures that every installation or repair is carried out with utmost precision and professionalism. When you choose us for your electric pool heater needs in Delray Beach, you're choosing a company that goes above and beyond to exceed your expectations.
Don't wait any longer to optimize your pool heating experience. Get in touch with us today to schedule an appointment and let our experts assist you in maintaining a warm and inviting pool environment throughout the year. Florida Pool Heating is here to ensure your swimming enjoyment is never compromised by chilly weather. Contact us now!
Electric Swimming Pool Heaters For All Pool Types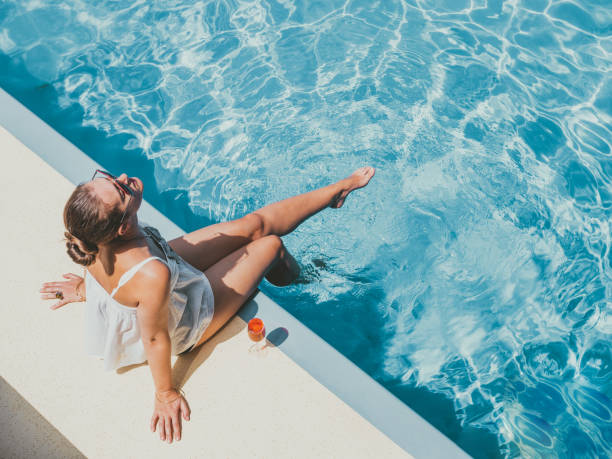 Our team of skilled technicians at Florida Pool Heating is committed to providing exceptional services for the installation and repair of electric pool heaters, establishing us as the premier choice for individuals seeking a pool heating upgrade in Delray Beach.
Whether you have an above-ground or in-ground pool, our team of experts at Florida Pool Heating is well-equipped to handle the installation of electric pool heaters with precision and attention to detail. We understand that every pool is distinct, and we take the time to assess your specific requirements to ensure a customized solution. By tailoring the installation process to your pool's size and shape, we can guarantee optimal performance and energy efficiency for your electric pool heater.
At Florida Pool Heating, we understand that time is precious, especially when it comes to enjoying your pool. That's why our state-of-the-art electric pool heaters are engineered to rapidly heat up your pool, providing you with a seamless and prompt swimming experience. With our efficient electric pool heaters, you can say goodbye to waiting and embrace the luxury of plunging into a comfortably warm pool whenever you desire, regardless of the weather outside.
Electric Pool Heaters Are Eco-Friendly
Electric pool heaters are a fantastic choice for environmentally conscious pool owners in Delray Beach. They offer numerous benefits that align with sustainability goals. At Florida Pool Heating, we understand the importance of reducing our impact on the planet while still enjoying the luxury of a heated pool. Our team of experts is dedicated to providing top-notch electric pool heater installation and repair services to help you make the switch to a more eco-friendly heating solution.
When it comes to environmental friendliness, electric pool heaters lead the way. At Florida Pool Heating, we believe that sustainability and comfort can go hand in hand. Electric pool heaters offer exceptional energy efficiency, ensuring that the power they consume is effectively transformed into soothing warmth for your pool. By opting for an electric pool heater installation or repair with us, you're choosing a solution that aligns with your eco-conscious values and helps to create a greener future.
Schedule Your Electric Pool Heater Installation Today!
Florida Pool Heating wants to help you enjoy your pool all year long. We offer competitive pricing and top-of-the-line products that are designed to last. Our commitment to excellence doesn't stop there – we also provide exceptional customer service and support to ensure that you're completely satisfied with your purchase.
Schedule your electric pool heater installation in Delray Beach with Florida Pool Heating today and start enjoying your pool no matter what the temperature is outside. Our team is standing by to answer any questions you may have and help you choose the perfect electric pool heater for your needs. Contact us now to get started!