Miami Pool Repair Service
Don't Let The Health Of Your Pool Drown
If you're searching for a reliable Miami pool repair service, look no further than Florida Pool Heating. Our team of skilled and experienced pool technicians is dedicated to delivering first-rate repair services to pool owners throughout South Florida. Whether you're facing a problematic pump, a leaky pool, or any other pool-related issue, we've got you covered.
At Florida Pool Heating, we understand the significance of having a fully functioning pool, and that's why we are committed to offering prompt and effective repairs that will get your pool up and running in no time. Our team works closely with you to identify the problem and develop a tailored repair plan that meets your individual needs and budget.
However, we don't just fix pool problems; we also specialize in keeping your pool in excellent condition all year long. Our all-inclusive maintenance plans include weekly chemical balancing, skimming, equipment inspections, and filter cleaning. With our help, you can relax and enjoy your pool with confidence, knowing that it's always in top-notch condition.
So why should you choose Florida Pool Heating for your Miami pool repair requirements? As a family-owned and operated business, we genuinely care about our customers and are committed to delivering exceptional quality services every time. With our extensive knowledge and years of experience in the pool industry, you can trust that your pool is in the best possible hands.
Don't wait any longer to schedule your Miami pool repair service. Contact us today to learn more about our services and to request a free quote. We're looking forward to helping you get your pool back in top shape!
We Repair All Miami Pools!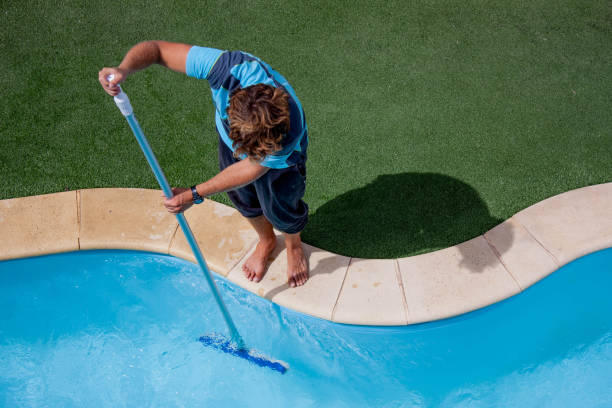 Looking for a top-notch pool repair service in Miami? Look no further than Florida Pool Heating! Our team of experts understands that every pool is unique and requires customized maintenance plans to keep it in top condition. That's why we offer comprehensive evaluations of your pool and its equipment to ensure efficient care.
Our tailored service plans cover all aspects of pool maintenance, including pumps, heaters, filters, and drains. Our dedicated technicians work with you to create a customized plan that meets your specific needs and ensures that your pool remains in optimal condition for you and your loved ones to enjoy. You can trust that we will provide the best possible care for your pool.
In addition to personalized service plans, we also offer a wide range of other services, including pool maintenance, repairs, and installations. No matter what your pool needs, our knowledgeable and committed team is always ready to help. From minor adjustments to major renovations, we have the expertise to keep your pool functioning at its best. So why wait? Contact us today for Miami pool repair service you can count on!
Schedule Pool Maintenance With Us!
As a pool owner in Miami, keeping your pool in top-notch condition can be a daunting task. At Florida Pool Heating, we recognize the importance of having a pool that is not only aesthetically pleasing but also durable, which is why we provide customized maintenance plans tailored to your specific requirements.
Our comprehensive pool maintenance solutions include weekly, monthly, and seasonal services to ensure that your pool remains in pristine condition all year round. Our weekly maintenance package comprises skimming, debris elimination, and chemical balancing to prevent the growth of algae.
For monthly maintenance, we take additional measures to ensure your pool's overall health. We thoroughly clean the filters, vacuum the bottom, and examine all equipment to detect potential issues before they escalate into significant problems.
Our seasonal maintenance plan is designed to consider weather fluctuations, including pool opening and closing, winterizing equipment, and inspecting for leaks or damages. We always take into account your schedule and budget to create the best maintenance plan for your pool.
Trust Florida Pool Heating to manage all your Miami pool maintenance needs, including those in Miami. Sit back, relax, and enjoy your stunning pool throughout the year while we take care of everything. Count on us to keep your pool in excellent condition.
What Types of Pools Do We Repair?
When it comes to maintaining a pool in Miami, Florida Pool Heating is the go-to choice for pool repair needs. Our team of skilled technicians has extensive experience in repairing all types of pools, including freshwater and saltwater systems. No matter the problem, we have the expertise to restore your pool to its former glory promptly.
We provide a comprehensive range of pool repair services that cater to the diverse needs of Miami homeowners. Our team is equipped to handle all types of pool repairs, including pump repairs, leak detection, liner installation, and more. From inground to above-ground, fiberglass to vinyl, our experts can handle any pool repair job with ease.
Florida Pool Heating understands that each pool is unique, which is why we offer personalized solutions tailored to every client's repair requirements. Our technicians are highly skilled and experienced in handling any repair issue, be it minor or major. We're committed to providing top-quality workmanship and unparalleled service to all our clients.
Don't settle for less when it comes to your Miami pool repair needs. Schedule an appointment with our expert technicians today, and experience the quality of service and workmanship that Florida Pool Heating is known for. We guarantee that you'll be completely satisfied with our work.
Get Miami Pool Repair and Maintenance Today!
Florida Pool Heating is the premier choice for pool repair and maintenance in Miami, Florida. With a team of experienced and certified technicians, we can handle all aspects of pool repair, from leak detection and repair to pump and filter maintenance. We also offer a wide range of maintenance services to keep your pool in top condition. Contact us today to schedule your pool repair and start enjoying your backyard oasis once again.