Palm Beach Gardens Pool Repair Service
Don't Let The Health Of Your Pool Drown
At Florida Pool Heating, our pool technicians are dedicated to providing top-notch repair services to the residents of Palm Beach Gardens. Our extensive experience in the South Florida community, combined with our passion for the pool maintenance, has made us a trusted source for thousands of pool owners. We understand the urgency of a functioning pool, especially during the hot summer months, and are committed to quickly restoring your pool to its prime.
Our knowledgeable technicians possess the skills to diagnose and fix a wide range of pool issues, including leak detection, filter cleaning, and pool pump repair. Our commitment to expertise and high-quality workmanship is unmatched in the industry. Our personalized approach to each customer's unique pool needs has established us as a leading pool repair company in South Florida.
To ensure your pool stays in top condition, we offer customizable maintenance plans. Our plans include weekly chemical balancing, skimming, filter cleaning, and equipment inspections. Our team will work with you to create a plan that fits your needs and budget. Our ultimate goal is to make pool ownership as effortless and enjoyable as possible.
Don't let a pool malfunction hinder your summer plans. Trust the professional and family-owned Florida Pool Heating for all your pool repair and maintenance needs. Our commitment to providing the highest quality service to our customers is what sets us apart.
We Repair All Palm Beach Gardens Pools!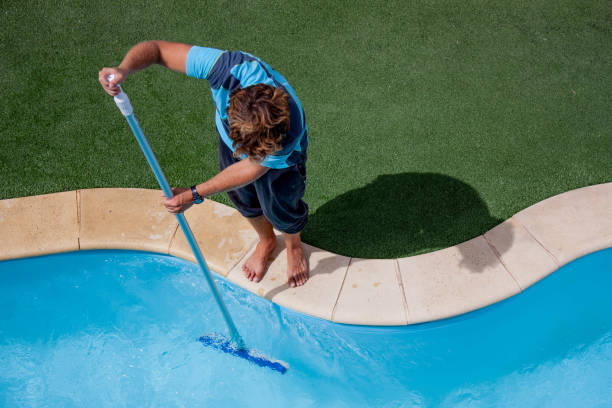 At our company, we understand the unique nature of each pool and the significance of personalized maintenance and attention. That's why we offer bespoke customer service packages to cater to the specific requirements of your pool. Our seasoned and knowledgeable technicians will conduct a comprehensive assessment of your pool and its equipment to guarantee superior care.
Our customized service packages encompass all elements of pool maintenance, including pumps, heaters, filters, and drains, designed to fulfill the individual needs of your pool. Our devoted team will work in tandem with you to create a plan that keeps your pool sparkling and inviting for you and your loved ones to enjoy.
In addition to our tailored service packages, we also offer a broad range of additional services, such as pool maintenance, repairs, and installations. Whether your pool requires a minor tune-up or a comprehensive refurbishment, our team is ready to lend a hand. With our experience and commitment to delivering exceptional care, you can count on us to keep your pool in prime condition.
Schedule Pool Maintenance With Us!
As a proud pool owner in Palm Beach Gardens, maintaining the pristine condition of your pool is of the utmost importance. Fortunately, Florida Pool Heating offers customized maintenance packages designed to simplify this often challenging task.
Our comprehensive maintenance options include weekly, monthly, and seasonal services tailored to your specific needs. Our weekly maintenance ensures that your pool stays clean and clear, with regular skimming, debris removal, wall and tile brushing to prevent algae growth, and chemical level checks to ensure proper balance.
Monthly maintenance goes a step further, with a focus on the overall health of your pool. Our team will vacuum the bottom, clean filters, and inspect all equipment for any issues. And for those seasonal changes, our seasonal maintenance plans take care of opening and closing the pool, winterizing equipment, and checking for leaks or damages.
We understand that each pool is unique, which is why we work with you to determine the best maintenance schedule for your pool. With flexible options to match your schedule and budget, you can rest assured that your pool is in top shape all year round. Let Florida Pool Heating handle your pool maintenance needs and enjoy a sparkling, pristine pool.
What Types of Pools Do We Repair?
At Florida Pool Heating, we specialize in providing comprehensive repair services to all types of pools, including saltwater and freshwater. Our team of experts is trained to handle repairs of any size, ensuring a quick and seamless resolution to keep your pool up and running.
We are experienced in repairing a wide range of pools, from inground to above-ground, fiberglass to vinyl. Whether you have a built-in pool that needs leak detection or pump repair, an above-ground pool that requires a new liner or pump maintenance, a fiberglass pool that requires repair in Palm Beach Gardens, or a vinyl pool that has tears or leaks, our team has the know-how to get the job done.
We recognize that every pool is unique and requires a specific approach to maintenance and repairs. That's why our technicians are equipped with the necessary skills and experience to tackle any repair, ensuring that your pool is restored to optimal condition.
Get Palm Beach Gardens Pool Repair and Maintenance Today!
Florida Pool Heating is the premier choice for pool repair and maintenance in Palm Beach Gardens, Florida. With a team of experienced and certified technicians, we can handle all aspects of pool repair, from leak detection and repair to pump and filter maintenance. We also offer a wide range of maintenance services to keep your pool in top condition. Contact us today to schedule your pool repair and start enjoying your backyard oasis once again.