Palm Beach Pool Repair Service
Don't Let The Health Of Your Pool Drown
At Florida Pool Heating, we have a team of dedicated and experienced technicians who are committed to providing unparalleled pool repair services to the residents of Palm Beach. With extensive experience serving this stunning South Florida community, we have made a positive impact on the lives of thousands of pool owners by repairing and maintaining their pools. We understand how crucial it is to have a well-functioning pool, particularly during the warm summer months, and work efficiently to bring your pool back to its best condition.
Our skilled technicians are proficient in diagnosing and fixing a variety of pool issues, from leak detection to filter cleaning and pool pump repair. Our technicians take pride in their knowledge and craftsmanship, and we always approach each pool repair job with care and attention to detail. We also understand that every pool is unique, so we consult with our clients to get a comprehensive understanding of their specific needs and offer customized solutions to ensure their satisfaction. This personalized approach has helped us to establish long-lasting relationships with our clients and establish ourselves as one of the top pool repair companies in South Florida.
In addition to repair services, we offer comprehensive maintenance plans that will keep your pool in peak condition. Our maintenance plans include weekly chemical balancing, skimming, filter cleaning, and equipment inspections. We work closely with you to tailor a maintenance plan that fits your needs and budget, and our aim is to make it easy for you to relax and enjoy your pool year-round.
Don't let a faulty pool spoil your summer plans – choose Florida Pool Heating for the highest quality pool repair and maintenance services. We are a family-run business, and our top priority is to provide exceptional customer service.
We Repair All Palm Beach Pools!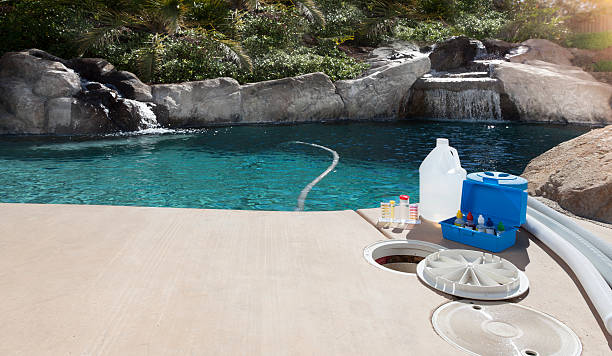 We understand the unique requirements of each pool and the significance of customized attention and maintenance. That's why we offer personalized customer service plans, customized to meet the specific needs of your pool. Our knowledgeable and experienced technicians will perform a comprehensive evaluation of your pool and its equipment to guarantee the best care possible.
Our customized service plans cover all aspects of pool maintenance, including pumps, heaters, filters, and drains, all tailored to fit the specific demands of your pool. Our devoted team will collaborate with you to create a plan that ensures your pool remains sparkling and enjoyable for you and your loved ones to enjoy.
Along with our customized service plans, we offer a vast range of additional services such as pool maintenance, repairs, and installations. Whether your pool needs a minor tune-up or a complete renovation, our team is here to assist. With our expertise and dedication to providing the best care possible, you can trust us to keep your pool in excellent condition.
Schedule Pool Maintenance With Us!
As a proud pool owner in Palm Beach, it's crucial to ensure the longevity and beauty of your pool. Maintaining a pool can be a daunting task, but with Florida Pool Heating, it's a breeze. Our team offers customizable maintenance packages to fit your specific needs and keep your pool in top-notch condition.
We understand that every pool has its own unique requirements, which is why our maintenance plans come in various options, including weekly, monthly, and seasonal maintenance.
Weekly Maintenance: Our experts will take care of all the essentials, including surface skimming, debris removal, wall and tile brushing to prevent algae growth, and chemical level checks.
Monthly Maintenance: Our focus is the overall health of your pool and includes bottom vacuuming, filter cleaning, and equipment inspection to identify any potential issues.
Seasonal Maintenance: Our team will prepare your pool for any weather changes, including pool opening and closing, winterizing equipment, and leak and damage detection.
At Florida Pool Heating, we understand the importance of finding the right maintenance plan to match your schedule and budget. Our goal is to provide you with peace of mind, knowing your pool is in good hands and will remain in pristine condition all year round. Let us handle your pool maintenance needs and enjoy a sparkling and well-maintained pool.
What Types of Pools Do We Repair?
At Florida Pool Heating, we are dedicated to offering the highest quality pool repair services to a wide range of swimming pool types. Our professional technicians possess the knowledge and expertise needed to tackle any repair job, big or small, to ensure that your pool is functioning optimally once again.
We specialize in repairing a variety of pool types, from inground pools to above-ground pools, fiberglass pools to vinyl pools. No matter what type of pool you have, our team is equipped to provide leak detection, pump repair, liner replacement, and more. Whether your fiberglass pool needs repair in Palm Beach or your vinyl pool is suffering from tears and leaks, our team is here to help.
We understand that each pool is unique and requires individualized attention. Our experienced technicians are skilled in customizing their approach to meet the specific needs of your pool. With Florida Pool Heating, you can rest assured that your pool will receive the personalized care and attention it deserves, resulting in a revitalized and well-functioning pool.
Get Palm Beach Pool Repair and Maintenance Today!
Florida Pool Heating is the premier choice for pool repair and maintenance in Palm Beach, Florida. With a team of experienced and certified technicians, we can handle all aspects of pool repair, from leak detection and repair to pump and filter maintenance. We also offer a wide range of maintenance services to keep your pool in top condition. Contact us today to schedule your pool repair and start enjoying your backyard oasis once again.